Construction Factoring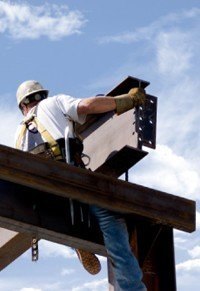 Precarious Situation
When James Guy needed additional working capital to support his daily needs, he turned to Gateway Commercial Finance. "We're a third generation metal and Iron construction company that suffered a rough down-turn during 2009 & 2010. Our banker had helped us as much as he could, but was out of options just as we started to climb out of our sales slump. He recommended factoring and gave us a couple of companies to call. We settled on Gateway as they were familiar with the construction industry and were prompt and personable."

We were very familiar with James's situation and looked at his pipeline of new projects. He's got an excellent customer base and a solid reputation in his field. His situation is atypical for many contractors that survived the last few years, highly leveraged with minimal operating profitability. "Gateway actually listened to our situation and provided a solution that worked well for the both of us...Gateway is like having a safety net below"
Structurally Sound Solutions
Construction factoring companies support your daily cash needs
The construction industry comes with financial ups and downs. When the bottom falls out of the economy, one of the first industries to get hit is the construction industry. If you own a construction company, then you understand the delicate nature of construction profit margins. You may have also been through the huge downswing in business that comes with an economic collapse. If that is true, then you also know just how long an economic collapse can linger.
A construction company requires good cash flow to pay workers and maintain the steady flow of supplies necessary to get each project completed. After a couple of years of struggling sales, your company's credit score suffers and your ability to get bank funding becomes slim. Without the proper financial help, your company may never recover from slow sales. But when you look to a construction factoring company for help, you can solve your problems and grow your business.
Construction Contractor Factoring Is Fast And Reliable
Setting up a construction factoring account only takes a few business days. With an approved account, you can submit approved invoices from creditworthy clients and get the cash flow you need to get your construction company back on track.
One of the biggest problems that occurs to a construction contractor recovering from financial hardship is the inability to take on the big clients necessary to increase revenue. You want to take on those new clients, but the bank's refusal to help with your funding makes those big projects seem out of reach. Construction factoring allows you to take on big projects and go after the kind of business that will make your company profitable again.
Pay Your Bills With Your Own Cash
A construction company that is wading through a period of low sales relies significantly on bank funding to get from month to month. It would be easier to pay with cash, but the cash flow is simply not there from the limited sales and slow-paying customers. Your customers pay on time, but it would be helpful if they paid a week or two early.
With invoice factoring, you can stop that financial tailspin and pay your bills on your own. You can turn those invoices into cash and sustain the kind of cash flow you need to take care of business. As business picks up, your cash reserves will get even bigger and the prospects for your future get brighter and brighter.
Don't wait until a bad economy backs your construction company up against the financial ropes. Talk to a construction factoring company today about setting up an accounts receivable factoring program that will allow you to pay your bills in cash and take on the biggest customers the industry has to offer. With construction factoring, you will be able to meet payroll and pay your vendors without the need for ongoing bank funding. Accounts receivable funding gives your company the chance to stand on its own two feet and stare down the challenges of a failing economy.