Oil Field Factoring Company for Oil and Gas Contractors & Suppliers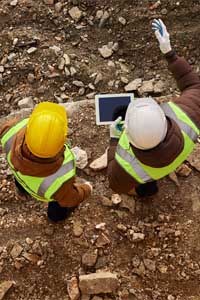 Strong Cash Flow
When Atlanta Services needed cash flow assistance, they turned to Gateway. "We're a two-year-old soil remediation service provider. We have the who's who list of customers in the oil and gas business. I have crews running nearly 24/7. What's not running is my cash flow!" Michael came to us with a cash flow dilemma, great customers but slow-paying. "I have payroll, fuel, equipment, and material expenses weekly, and my customers are paying me between 90-150 days; I simply can't juggle the slow payments."
Michael's banker referred his business to Gateway, knowing we could quickly even out slow cash flow. "Marc and his team had us up and running with stable cash flow within a week. The process is simple, straightforward, and reliable… just like me!"
Healthy Oilfield Business
How to Boost Working Capital in the Oil and Gas Industry
Michael's business situation is not uncommon. Due to the gas and oil industry's typical cyclical business cycles and extended payment terms, it's frequent for contractors, sub-contractors, and suppliers to struggle with maintaining healthy cash flow.
It takes just one of your largest customers to delay payments for a couple of months to put your business in a difficult financial situation. And, while you wait for those unpaid invoices to get collected, you still need to cover expenses, pay salaries and comply with contractual obligations.
Adding to these operational hassles, financial help is not always available. Many times, it's hard for oilfield service businesses to access low-cost bank lines of credit, loans, or receivable financing. To be eligible for these financial services, it is typically required that your company has a long business history and strong credit and financial background. You'll have little chance of qualifying if your current credit situation is not stellar.
Here's when oilfield factoring comes to the rescue.
About Oilfield Invoice Factoring Services
Invoice factoring, also known as receivable factoring services, is an accessible form of financing for oilfield service companies. You don't need to wait for your customers to pay anymore. With factoring, you can sell your outstanding receivables to us and get immediate cash flow advances to cover operating expenses. We'll then wait for the payments to be collected, discount your advance and a small factoring fee and deposit the balance into your bank account. This process repeats for as long as you have cash flow issues and outstanding receivables to sell.
One of the best advantages of oil field factoring is that accessibility is not based on your company's credit score but on your client's credit history. That's why, contrary to receivable financing, bank loans, and other traditional forms of financing for businesses, you can access consistent cash flow even if your business is new or your company has a weak financial background.
Here's how receivable factoring works and detailed information about the cost of invoice factoring if you are interested in learning more.
We Provide Oil Field Factoring Services To Clients Operating These Types of Businesses
Our oil and natural gas factoring company provides funding to oilfield suppliers, oilfield services contractors, and support services. Our customers run business services like the following:
Oilfield trucking and transportation companies: such as water, gravel, frac sand, pipes, mud, equipment, and crude hauling and transportation. Vacuum, winch, and dump trucks. Delivery businesses.
Cleaning companies: rig, well, frac tank, trucks cleaning. Other cleaning and disposal services.
Oilfield construction: pipe construction, road construction, etc.
Other business sectors include salt removal, remediation, rig services, excavation, drilling, and pipeline services.
Site planning and site preparation companies.
Food trucks and catering services.
Oil field staffing: temporary supply of workers such as crane and fracking operators, welders, roustabouts, riggers, drillers, etc.
And many more oilfield contractors.
Our Customers Service Oilfield Areas All Around The U.S.
We have oil and gas customers providing services in many oilfield areas and basins. Our oilfield factoring program offers to finance suppliers and contractors in the following states:
| | | | |
| --- | --- | --- | --- |
| Texas | Louisiana | North Dakota | South Dakota |
| Arkansas | Nebraska | New Mexico | Oklahoma |
| Colorado | Pennsylvania | Alaska | California |
| Wyoming | West Virginia | Utah | New York |
| Ohio | and many other U.S.A. States | | |
And the most important oilfield areas across the U.S. territory such as:
| | |
| --- | --- |
| Barnett Shale (Newark East, TX) | Anadarko Basin (West Central Oklahoma) |
| Eagle Ford Shale (Eagleville, TX) | Williston Basin and Bakken Shale (North Dakota and Montana) |
| Granite Wash (Texas and Oklahoma) | Marcellus Shale (Appalachian Basin, PA, and WV) |
| Haynesville / Bossier Shale (Lousiana, Arkansas, Texas) | Permian Basin (Western Texas and Eastern New Mexico) |
| Spraberry Trend (Midland, TX) | Denver Basin: Colorado (Wattenberg oilfield) |
| D.J. Basin (South Dakota, Colorado, Nebraska, Wyoming) | Palo Duro Basin (Texas, New Mexico, Oklahoma) |
| Western Gulf Basin (Louisiana, Texas) | |
Oil & Gas Factoring Program Details
Our factoring solutions for the gas and oil industry are designed to help you concentrate on your continuous business growth instead of worrying about cash flow challenges.
We offer:
Competitive receivable factoring fees and oil field factoring rates from 0.5%.
Superior customer service.
Same-day funding.
Month-to-month contracts.
Financing for businesses at any growth stage. Start-ups and small, big, or mid-size companies qualify.
Account managers that are experts in oilfield factoring.
Flexible factoring agreements with facility lines up to 10MM.
Direct access to our managing director at any time.
If you are interested in learning more about our program, here's more information about our accounts receivable factoring services.
We would love to discuss your working capital needs and find ways to provide stable cash flow for your operations. Give our managing director a call at 1-855-424-2955 or request a factoring quote for immediate attention.