Don't Miss it! – We have included a high-quality info-graphic for you to download and use at the end of this article.
The best way to maintain a strong cash flow is to make sure that your customers pay their bills on time. The ideal situation would be to have your customers pay their bills ahead of the due date, but that does not always happen.
Too many business owners think that there is little they can do to make sure that their invoices get paid by their due dates. The truth is that there are around 23 things a business owner can do to motivate customers to pay their bills and maintain cash flow. The best part is that most of these 23 tips are actually very easy to do and easy to remember.
How to Get Paid On Time
Tip 1 – Promise only what you can deliver
Set realistic expectations when it comes to the quality and availability of your product. Few things create late invoice payments more than low-quality products and persistent back-orders. If a customer orders a product that is back-ordered, then give an accurate shipping date. When an accurate shipping date is not available, your best approach is, to be honest with your customer and salvage that relationship.
Tip 2 – Make Detailed Price Quotations
Every aspect of the selling price should be clearly spelled out at the time of the transaction. The product cost, description, payment terms, shipping costs, and even estimated sales tax should all be presented to the client before the purchase is made.
If you spring surprise charges on a customer in the final invoice, then the customer will feel obliged to fight with you rather than pay you. To avoid that kind of profit distraction, just be sure to give the complete price before the customer agrees to make the purchase.
Tip 3 – Never deliver without a signed purchase order
A signed purchase order that clearly states the terms and conditions of the sale, along with penalties and fees for paying late, is your protection against late payments. Another great thing about a signed purchase order is that your customer will confirm the product and pricing for you. With a signed purchase order from your client that matches the transaction invoice, there is little the customer can say when it comes time to pay.
Tip 4 – Have clear and precise credit policies
Never ship a product without having your client sign a credit agreement. It is just one more way of emphasizing the need for your customers to pay their bills on time. A good credit agreement outlines the terms of payment, any interest on late payments, the payment address, and customer service contact information.
Pack your credit agreements with all of the details your customers will need and always urge your customers to read the credit policies before signing them.
Tip 5 – Check out new customer creditworthiness
An important part of establishing a credit agreement is a thorough credit check. Invest a couple of dollars in finding out everything you need to know to feel comfortable with giving client terms. Look at the buying history of the customer and see what other companies have offered in the way of credit limits.
You will be able to tell immediately if the customer is worthy of a credit account from your company and what payment terms to offer. It may be that this new customer you are considering always pays late and that is why you want to offer a smaller credit limit to get started. On the other hand, another new customer always places huge orders but they pay within 30 to 45 days. In that case, a NET 45 term may be more appropriate to entice the customer to do business with your company.
Tip 6 – Establish reasonable credit limits
Never give a customer more of a credit limit than they can handle, but be sure to give enough of a credit limit to sustain the business. Credit limits can be reviewed and altered as needed, but they should always protect your company from possible exposure to risk. Consider separate credit agreements for larger orders, which is something we will discuss later.
Tip 7 – Re-visit credit accounts at least once a year
Every year you should review all of your credit accounts, run new credit checks, and decide if you need to change some credit limits or alter credit terms. This will allow you to reward good customers and remind slow-paying customers that, while you value their business, you are not here to offer long-term financing on short-term purchases.
Tip 8 – Not every client gets credit
Do not feel obliged to give every client credit. In some cases, a pay-in-advance or a cash-on-delivery account is appropriate. This is usually the case with customers that habitually pay late, start-ups, and customers that have recently experienced financial hardships. Remember that your goal is to grow your business and reduce your exposure to risk. Denying certain customers' credit is one way of significantly reducing your risk.
Tip 9 – Larger orders require different terms
It is acceptable to negotiate orders with customers that go beyond their credit limits. Just be sure that you protect yourself with a signed purchase order and sales agreement for those larger orders.
In some cases, a customer may share a purchase order they received from a very creditworthy client of theirs, but the terms are longer than the terms you have offered your client. In those situations, it could be worth the risk to offer a special credit arrangement for that specific deal and take advantage of the chance to bring in more business.
Tip 10 – Resolve pricing disputes quickly and efficiently
Even when you have it in writing, some customers will try to argue about pricing. Be decisive in your pricing negotiations and remind customers of the contracts they signed. That is why you have signed contracts in the first place.
Always stand firm in pricing negotiations, but also try to find out what has caused the customer to ask for a revised price. Sometimes a pricing dispute carries an opportunity that the customer may not realize. In the end, you should negotiate to protect your business and reduce any chance of you losing money in the deal.
Tip 11 – Always deliver on time
If the product arrives at the client location late, then your payment will arrive at your accounting department late as well. Always deliver on time and make sure that every order is completely fulfilled.
A good piece of advice is to discuss shipping methods with your customer before shipping products. It could be that your preferred method of delivery is habitually late to your customer's location. You can reduce the chances of late deliveries by getting details from your customer and making the right adjustments.
Tip 12 – Document proof of delivery/acceptance
Investing a few more dollars in a delivery confirmation signature can go a long way to keeping your customers honest and getting your bills paid on time.
Tip 13 – Follow-up on delivery confirmation
Develop a system with your customers where you send out an email to confirm the information you received on your delivery confirmation report. Ask your customers to read over the confirmation information and alert you to any discrepancies.
Once again, some customers may not completely appreciate this gesture. But when it comes to protecting your cash flow, there is no such thing as too much information confirmation.
Tip 14 – Price invoices accurately
Invoicing errors on your part slow up payments from your customers. Make sure that each invoice is accurate and always make sure to outline any special pricing agreements in the invoice.
For example, if you have offered a special bulk price on a particular item, then always make sure that the bulk price shows up properly on the invoice. Most customers will rightfully demand a revised invoice for such an error and that will push your payment back even further.
Tip 15 – Invoice promptly
Always make your invoice dating practices clear to each client. Some companies invoice the moment a product is shipped, while others invoice after the product has been received. Be sure to include your invoice dating policies in your credit application and always invoice promptly for each delivery.
Tip 16 – Confirm invoice delivery
As a customer service, always reach out to customers and call them to confirm that they received their invoices. Some customers will appreciate this gesture and some may not. But it removes one more excuse the customer has for making a late payment.
Tip 17 – Make payment terms evident
Every one of your invoices should have clear instructions on where customers need to mail payments and how to make out the checks. Customers should not have to search the invoice to find payment options and a customer service phone number where they can call if they have any questions.
Tip 18 – Reward customers who do pay early
You would be surprised at how fast you will receive payments from your customers when you offer a discount of two or three percent off the total invoice for payments received early. You can offer a flat discount, or you can put together a sliding scale that has a larger discount for earlier payments.
On the other hand, you should also punish customers who pay late. When you make your credit card payment late, the credit card company always includes a late fee. Your company should do the same thing and put information about the late fee clearly on each invoice and in the credit application.
Tip 19 – Make it Easy to Process Payments
Always reference your customer's purchase order information on every invoice. Not only does this protect you when discussing late payments with your client, but it does make their bookkeeping much easier. Most clients will insist that their purchase order numbers appear on your invoices because it is a good way for both sides to do business.
Tip 20 – Ensure customer satisfaction
Customer satisfaction calls can be made after each confirmation receipt is received, or just as a weekly courtesy to your clients. When you make a regular habit of checking on customer satisfaction, then your customers will be prepared to tell you just how your company is performing. Take each suggestion very seriously and work hard to resolve any customer service
Tip 21 – Offer convenient payment options
These days, electronic payments and Internet money transfers are becoming more and more common. If you want to keep your customers happy, then you need to offer as many diverse types of payment options as possible. Electronic payment options are a great way to go, but you should talk to a company that specializes in those kinds of payments to make sure that you are setting up the right kind of services.
Tip 22 – Make courtesy calls close to invoices due date
If an invoice due date is a few days off, it is a good idea to give your customer a call and remind them about your early payment discount. Some customers often do not read the extra language on their invoices and may miss the early payment discount. As a courtesy to your clients, give them a call before the invoice is due and remind them that they can save money if they pay now.
Tip 23 – Be persistent with late accounts
Above all, you need to be persistent when it comes to maintaining your cash flow. Some companies make daily collection calls until an invoice is either paid or sold to collections. Always give your customers updates on how many days they have left to pay before the debt counts against their credit score and do your best to bring in that payment.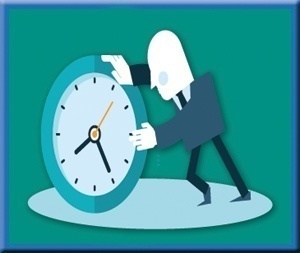 A strong cash flow is the lifeblood of your business. You generate cash flow by creating invoiced sales and getting invoices to customers. But there is a lot you still need to do before the payment is logged into your books. Remain vigilant with your customers, make promises that you keep each and every time and develop good invoicing habits and most of your customers will respond in kind.
Here is a simple infographic summarizing these great tips. Enjoy!
Do you like this infographic?
You are free to download this JPG image file, print it, distribute it, and post it on your website, blogs, or social media accounts. We'll appreciate it if you attribute the work to Gateway Commercial Finance, LLC, and link to our website https://gatewaycfs.com or this page.